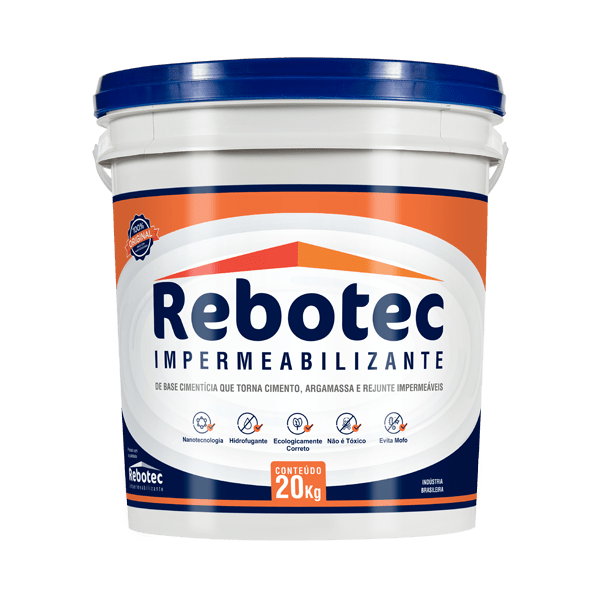 Rebotec Waterproofing
Available in buckets of 2kg, 4kg and 20kg.
REBOTEC® is a powder additive for waterproofing concrete and mortar. REBOTEC® reacts with cement during the hydration process, giving rise to mineral substances that block the capillary network, providing high impermeability to concrete or mortar.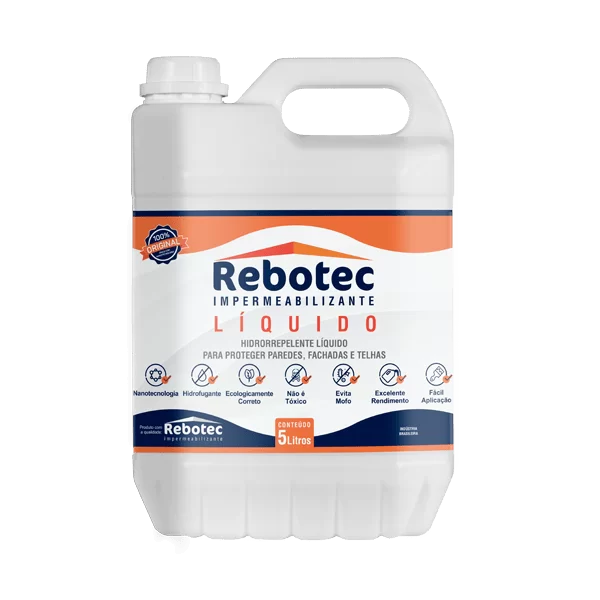 Rebotec Liquid
Available in 1-liter and 5-liter containers
Liquid hydro-repellent to protect walls, facades, tiles and wood in vertical outdoor areas.
To apply Rebotec Líquido on an area already painted, it is necessary to wait for the total curing time of the paint. Water-based paints cure in a minimum of 20 days, solvent-based paints, alkaline and acrylic resins, a minimum cure of 25 days. Clean the surface well where Rebotec Líquido will be applied, the site must be free of residues and releasing agents (dust, water and other hydro-repellents). If you want to paint the surface after applying Rebotec Líquido, it is necessary to create adhesion by sanding the site and applying a preparatory base for painting. To lay ceramic tile, it is necessary to sand the surface and use mortar flooring upon flooring.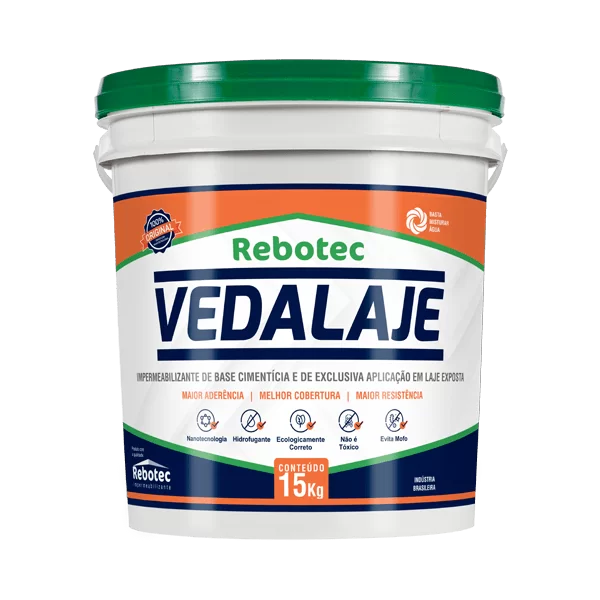 Vedalaje Waterproofing for floor slabs
Available in buckets of 5kg and 15kg.
VEDALAJE is a product with Rebotec technology and quality.
Being powdered, easy to apply with quick results, it prevents moisture, infiltration and mold from reaching your SLAB.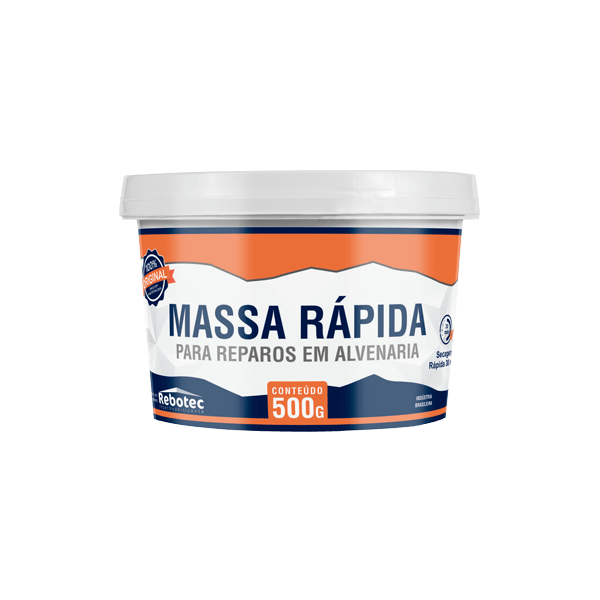 Massa Rápida For Masonry
Available in 500g pots.
Rebotec Massa Rápida for Masonry, you can make small repairs to your home or office without professional help and with quick drying.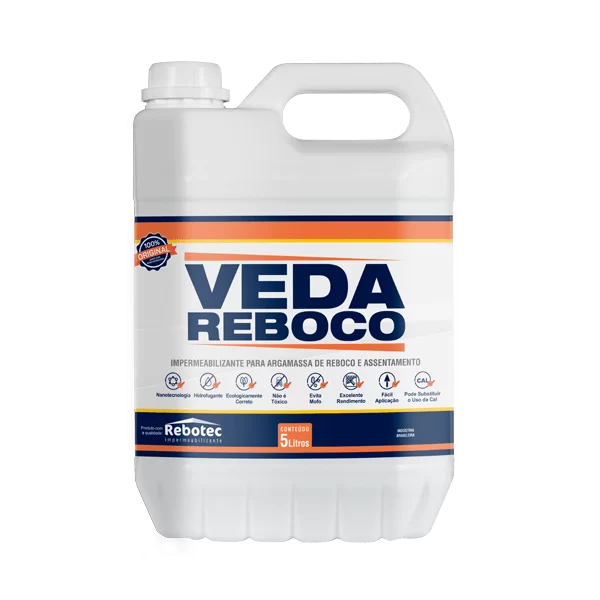 VedaReboco Líquido for Simple Plaster
Available in 1 liter and 5 liter containers.
Crystallizing waterproofing for plastering and laying mortar.
Excellent performance, ease of use with Rebotec technology.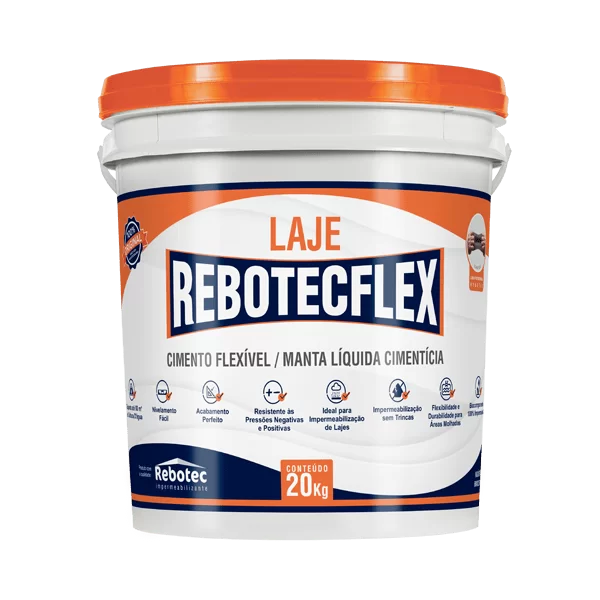 RebotecFlex
Available in Slab, pool, tank and bathroom versions, in packs of 4 and 20kg.
Waterproofs, corrects and prevents micro-cracks. Ideal for laying on coverings and areas in constant contact with moisture. In addition to being extremely effective in PVC and metal drain and pipe ends. Accepts direct application of different paints, textures and coatings. Ideal for laying on exposed slab in constant contact with moisture.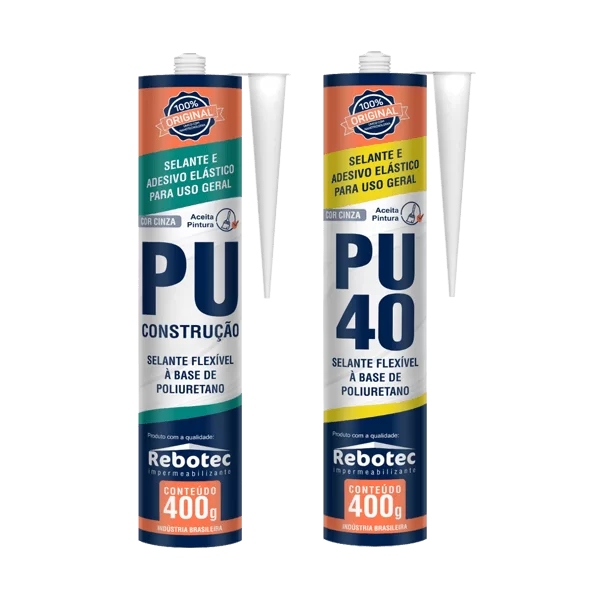 PU 40 e PU Construção
Available in packs of 400g.
PU 40 – Indicated for filling horizontal and vertical movement joints. It has resistance to environmental weather, including against yellowing of applied joints.
PU CONSTRUCTION – Used in civil construction for expansion joints in general, precast, window frames, air conditioning, flashings, industrial floors and facades. It has an excellent finish for industrial applications, painting booths, containers, panels and bodies.
Argamassa AC1, AC2 e AC3
Available in packs of 20kg.
Mortar AC1 – Indicated for laying ceramic tiles with dimensions up to 45x45cm, with water absorption greater than 3% in indoor areas.
Mortar AC2 – Indicated for the laying of ceramic tiles in external and internal environments, with water absorption greater than 3%, subject to the action of wind, rain, vibrations, small deformations and thermal variations. Laying on facades with coverings up to 20x20cm.
Mortar AC3 – Indicated for external and internal use on floors and walls with water absorption of less than 3%, porcelain or stoneware. Areas with high pedestrian traffic, such as commercial buildings, bus stations, shopping malls and stores. Accepts application of floor to floor.